As consumers of the connectivity industry, we keep hearing about all of the shiny, new, cool things we're going to be getting - autonomous vehicles, decked-out smart homes, low-latency gaming, and more. At UpRamp, we're lucky enough to be working with many of the startups that will be making it all happen - including Tibit, voted "Best Innovation" of the Innovation Showcase at CableLabs Summer Conference in 2018.
Fiber optic broadband is a core requirement for these technologies, and has long been one of the promises we've been hearing about - lower latency, faster speeds, and higher bandwidth capacity. Better gaming, streaming, more capacity for connected devices - these are all things that we can expect from a large-scale fiber rollout.
Except fiber can be expensive, and bulky, to install in typical network with a large customer base, making it difficult for us, as consumers, to see the different that fiber can make at scale.
Enter Tibit Communications. Founded in 2014 by CTO Ed Boyd, CEO Rich Sandfield, and VP Engineering Jerry Wojtowicz, Tibit is one of the only hardware solutions to come through Innovation Showcase in recent years. The trio had met over the years in careers with chip manufacturers and systems companies, and had already seen this issue at play through conversations with Comcast and Time Warner Cable, so they knew what they were after: a small, low-power device that could distribute fiber optic connections in a scalable way.
After four years of continually shrinking the device until it fit a small standard form factor, the product was finalized in time for the 2018 Innovation Showcase at Summer Conference, where Ed demoed to the audience how something the size of a pack of gum can create 256 fiber access points where traditional solutions would have been able to create just two.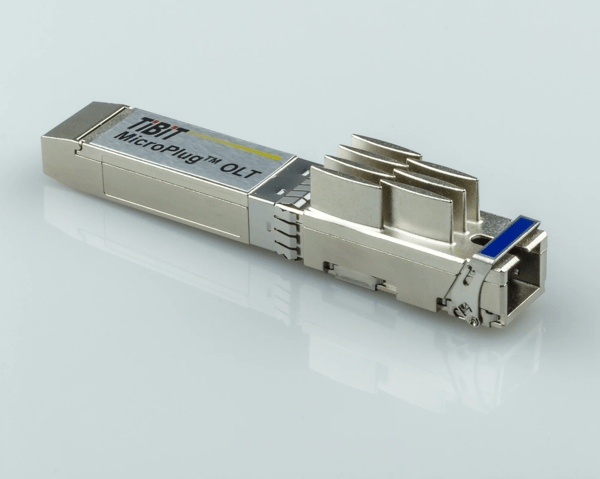 Due to their existing involvement in the cable industry, the three founders were aware of CableLabs and its laundry list of impressive accomplishments. "We knew about Innovation Showcase," said Ed, "and we kept joking about getting into the program."
Turns out, joke was on them! The audience at the 2018 CableLabs Summer Conference loved Tibit so much, they voted them as the "best innovation".
Since then, Tibit has seen immense traction from the CableLabs member community, giving private demos to several operators. Tibit is just about to go into full-scale production, with multiple operators testing the device and switch vendors writing their software to get it to align.
But that's just the beginning. About Tibit's potential, Ed says that "it's going to fundamentally change connectivity. By getting fiber out to all wireless points and pulling it back over low-latency fiber backhaul, we'll be able to enable the growth of high-speed, expectation-meeting connectivity, in rural areas and other hard-to-reach places."
Tibit's success doesn't mean that they haven't hit some bumps in the road: hardware and chips are very unpopular in the VC community. Instead, Tibit has utilized its customer community, focusing on strategic investments from partners and vendors, including Intel. Says Ed, "nothing says 'this is great' as much as your customer investing their own money into making it happen."
For us here at UpRamp, it's obvious that Tibit is going to fundamentally change connectivity. This industry revolves around enabling connection on a human level across the globe - but that only works if everyone has access to a high-quality network to enable the technology of the future. We're grateful to Tibit for tackling this challenge - and we're excited to see how Tibit will enable the long-awaited expansion of fiber optic connectivity in the near future.