Thirteen years ago, CableLabs launched Innovation Showcase at a private event in California, and soon after that they held the first Summer Conference edition in Keystone, Colorado. Since then, Innovation Showcase, which became part of the UpRamp portfolio of programs in 2016, has been a hit with both the CableLabs member and vendor communities and the startups that have participated.
Since 2006, over 300 companies have given live demos in Innovation Showcases, have secured $2B in venture funding, and have had countless engagements with the CableLabs member community. But despite years of success, the Innovation Showcase at Summer Conference 2019 was just a tiny bit more special: it was the last edition that will ever be held in Keystone.
After over a decade of bringing together radical entrepreneurs and the incredible CableLabs member community at Summer Conference, we're sad to see that particular edition come to a close. But never fear: future editions of Innovation Showcase will continue to take place throughout the year, enabling ongoing engagement between the startup ecosystem and the connectivity industry.
We're pleased to say that the startups chosen for the 2019 Innovation Showcase at the CableLabs Summer Conference were rockstars onstage, and one of our most popular cohorts to date. So, without further ado: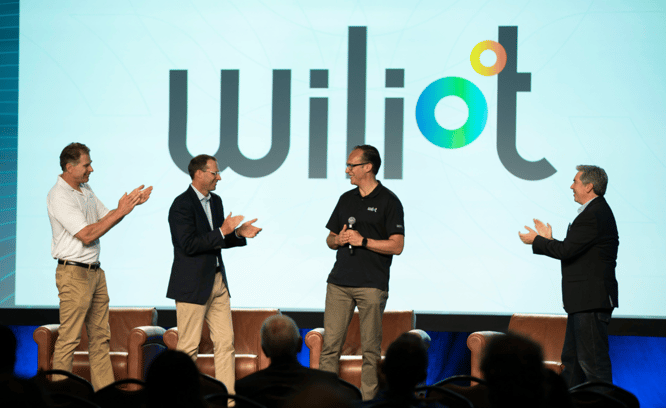 Winner: Wiliot
Congratulations to Wiliot, voted 'best innovation' by the audience! One of the only hardware teams this year, Wiliot wowed the crowd with its battery-free, postage stamp-sized Bluetooth tag that has a range of use cases, from asset and supply chain tracking all the way to making sure the cat doesn't get lost.
Hailing from San Jose, California, the Aporeto team joined us to demo their platform for zero trust security for applications enabled by auto-generated rich identity. Their solution uses a unique fingerprinting technology to identify servers, services, and workloads for authentication.
Aurora enables a birds-eye view of spectrum and wireless infrastructure. With its own satellites in orbit, Aurora Insight provides critical intel through its proprietary dataset and industry trend insights.
An alum of UpRamp partner Boomtown, Hippo Health is reimaging the doctor-patient relationship and reintroducing joy and care back into healthcare. Founded by a physician, Hippo Health's platform enables HIPAA-compliant, quick, and easy-to-use communications between doctors and patients.
Ever ask someone what they think of your video short - and still not sure about how honest they were being? Finalist Immersion Neuroscience uses an armband and software to gauge the quality of experience for any number of people in real time.
Another Boulder local, Misty Robotics has created Misty, the blank slate, autonomous robot that enables your tech teams to provide more relevance to your subscribers in their homes and offices. It is capable of facial recognition, speech, and listening!
The third finalist at this year's Innovation Showcase, Nodin creates a dynamic model of your business so that you instantly know what is happening and why. The AI-driven platform automatically determines the relationship between business drivers and outcomes.
Last, but certainly not least, Platina Systems enables businesses to securing new revenue streams by offering computing capabilities at the edge. Their turnkey solution enables businesses to build, operate, and run services in data center or clouds.